I've been a critic of Tabaré Silva for the longest time, while praising Sport Huancayo's coach Marcelo Grioni. On the weekend, these two teams clashed and the game ended in a thrilling 2-2 encounter.
El Rojo Matador has not lost to Real Garcilaso at the Inca Garcilaso de la Vega since 2013, when Los Cusqueños played in a final with Universitario, where they lost on penalties. Granted, Garcilaso have beaten Huancayo at home in 2017, but this game was played in Sicuani rather than the main city.
Lineups
Real Garcilaso (4-2-3-1): Ortiz, Cossio, Dulanto, Lojas, Arismendi, Aucca, Archimbaud, Santillan, Ramua, Vidales, Alessandrini.
Sport Huancayo (4-2-3-1): Pinto, Corrales, Leon, Salinas, Lojas, Alfredo Rojas, Salcedo, Alexis Rojas, Valverde, Trujillo, Neumann.
Silva's tactics are often confusing, but he has improved in recent weeks compared to the Copa Libertadores. Alexis Cossio and Jesus Arismendi are usually defensive full-backs and don't venture forward too often. Gustavo Dulanto is your typical tall central defender and one we've praised many times on The Peruvian Waltz, while Juan Lojas is the total opposite.
Miguel Aucca is the new boy and has been playing the last few games. He's still got a lot to learn, but he's a pretty canny ball-winning midfielder with some decent distribution. Jean Pierre Archimbaud is there to make the whole team click while adding dynamism.
Ivan Santillan, Alfredo Ramua and Jhonny Vidales were deployed where they have been for most of the season. However, the former is a left-back, yet he continues to play as a winger. Lastly, Cristian Alessandrini is a chance creator. His off-the-ball movement is impeccable, but his finishing is a bit off.
Sport Huancayo, on the other hand, are lining up with something very different. Pinto as usual in net, with Manuel Corrales and Sebastian Lojas in their usual positions at full-back. Brackson Leon was a surprise starter, while Alfredo Rojas and Ricardo Salcedo lined up in the midfield, with the latter being Huancayo's version of Archimbaud.
Luis Trujillo is back in the lineup as a winger, despite also being a full-back. Sporting Cristal loanee Alexis Rojas is a fresh addition as well. Marcio Valverde is playing as a No. 10 this time around instead of Marcos Lliuya, which is a surprise and an experiment from Grioni as he usually functions best as a No. 8. Neumann, as always, started up front.
Grioni has always been an offensive manager. He likes to have his full-backs push up and overlap with two very dynamic midfielders. His teams are fun to watch because of their tactical awareness.
This first example shows that Grioni's teams are always trying to push forward and play through the full-backs. Trujillo and Corrales are on the left side of the pitch (pictured above), with the former waiting to receive the ball as Corrales runs behind him.
Trujillo then cuts inside, taking Arismendi and Archimbaud with him, completely freeing his left-back partner and giving him space for the cross. Keep in mind, this is a fault from Real Garcilaso's defence, as Silva's marking methods are bizarre. There is no closing down, and Arismendi goes the wrong way to try and offer an extra body in the box, implying he either didn't see Corrales or was told to mark the forwards and/or playmakers and risk a cross. The latter is much more likely.
Arismendi is really just sitting there without marking anyone, giving us flashbacks of what happened in Montevideo when Garcilaso lost 4-0 to Nacional. Arismendi doesn't mark Valverde, who is making his way into the box to receive the cross, but he doesn't try to close down Corrales, either.
Then after that, there is Neumann who runs into the play and is clearly being marked by Gustavo Dulanto, making it a giant-versus-giant clash. He runs in to offer the defence more trouble with his fast movement, while substitute Lampros Kontogiannis is doing his job in taking on Valverde, while Arismendi is still pondering what he has to do.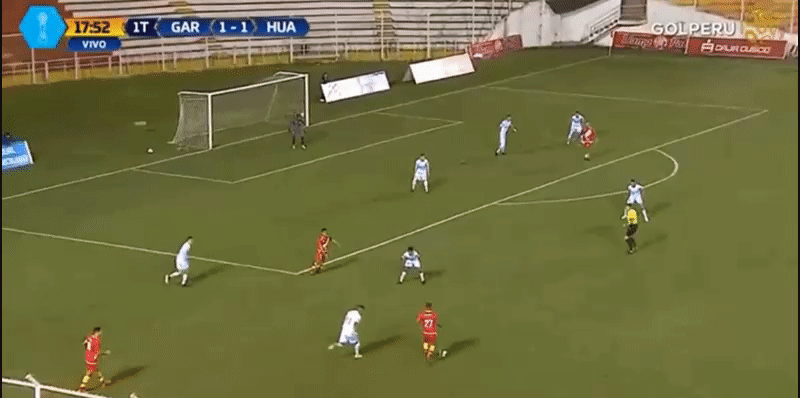 So in the end, it's a good play from Huancayo but also some real tactical incompetence from Garcilaso.
Here is a more extreme example involving the same two players. Trujillo had been drifting narrowly and joined the attack from the centre of the pitch, taking Vidales with him.
Not only did he lure Vidales, but having only Corrales on the left side (still making his way up the pitch) has distorted the opposing formation completely. This gave a completely open lane down the left in order to surprise Garcilaso.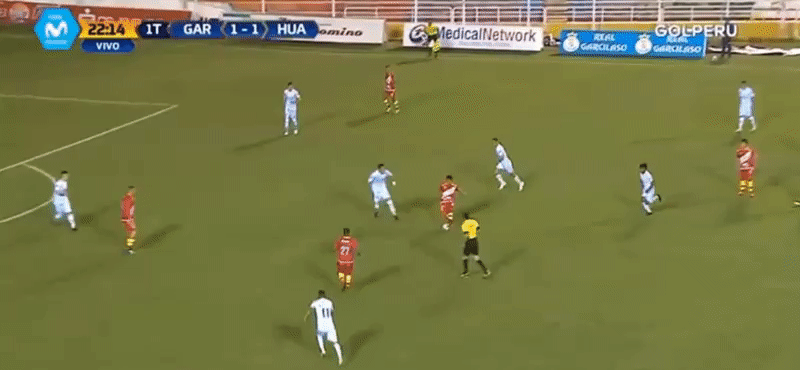 In this situation, Manuel Corrales takes his time and allows the home team to reorganize themselves. This was probably due to the lack of men in the box, and a cross would likely do little good. As you can see in the picture below, only Neumann is standing in an offensive position, and it's not like the defensive line is doing a good job or keeping him offside anyways, as it looks quite disjointed.
Here you can see Trujillo's and Corrales's heat maps. Trujillo is playing a bit narrower to open up some space for his offensive partner. Corrales, meanwhile, is hugging the touchline and trying to find as much space as possible.
Luis Trujillo
Manuel Corrales
These two players have been discussed as El Rojo Matador mostly attacked the left side of the pitch, either to take advantage of Arismendi because Grioni believes he's the "weak link" or to take advantage of Corrales' offensive ability. Alexis Rojas is a stronger and more technical attacker than Trujillo, but the latter has tactical traits and more experience that could help the attack.
Now, Garcilaso's man-marking scheme is confusing, but they did provide good cover, something that could not be said during their Libertadores campaign, and this is due to Miguel Aucca's play.
Aucca covers the entire middle wherever he needs to recover possession. He didn't have the best game, but he's an interesting player with flashes of potential.
Here is one example. Arismendi, despite often being a defensive full-back, was forced to join the attack. After intentionally not tracking back, Aucca took charge, even though he started on the left side of the midfield, while Archimbaud was on the right, which was Arismendi's side.
Now, as for Garcilaso, they usually play with Ramua as the focal point in attack. The Argentine is often asked to launch long balls. The goal itself was a good example, because as soon as Santillan saw open space, he went for the kill and tried to latch onto Ramua's pass as fast as he could. He was able to do it and scored.
The issue at hand was Richard Salinas not tracking back after his header. This gave Ramua more time than usual to place his pass, and Santillan out-paced his marker. While Santillan did well here, it really shows his best role is coming in from behind, which further asserts the need for him to return to left-back.
Ramua functions as a mix of a deep-lying playmaker and a secondary striker. That one example was his superb assist, but what he's so good at is reading the runs and speed of his attacking partners. He did it with Vidales in the second half. Ramua dropped deep and timed the acceleration of his teammate perfectly to place his pass.
According to SofaScore, Ramua completed seven key passes in this game, an absolutely superb number.
All in all, Huancayo actually defended quite well aside from Salinas's horrendous error that lead to the goal. El Rojo Matador's biggest "self" danger came from goalkeeper Joel Pinto, who looked very shaky.
There aren't very many good examples as Sport Huancayo really didn't allow the opposition much time on the ball. One bit of proof is that the visitors had 54 per cent possession. While not a staggering difference, it was evident who had more of the ball within the game and it was because of how well Huancayo defended in their area.
As Grioni's teams usually do, they played zonal and two men joined in marking a man if they really needed it. Garcilaso focused a lot on the aerial game and there were a lot of fouls on their side of the pitch and a lot of set pieces.
The draw was probably fair, as it was a very aerial battle with a lot of dodgy goalkeeping. Only one goal came from open play and that was because of how tough it was to rely on crosses and Ramua's long balls.
That said, it was still a thrilling game and these managers stuck to their guns. This was certainly a solid match with a lot of tactically intriguing lessons.