It's been some time since we've analysed UTC on The Peruvian Waltz, while Cantolao are debutants to the tactical reviews.
Last time, we explained UTC's methods to beat Rampla Juniors, before undoing all their efforts in the second leg where they lost 4-0. Since then, los Cajamarquinos have more of a tactical grip. They lost 2-1 to Cantolao on Monday, but that doesn't undo their entire campaign.
Cantolao, on the other hand, are a bit of an up-and-down team. They have moments where they are in brilliant form, and others where they really struggle. There doesn't seem to be any in-between with them.
For some reason, GOLPeru only decided to show UTC's lineup, so we'll include a picture of that and then just have Cantolao's lineup in words.
Cantolao: Nicosia, Cabello, Kambou, Baluarte, Otarola, Atoche, Albarracin, Takeuchi, Castillo, Gonzalez, La Torre.
---
UTC attacked mostly via their full-backs like they have for most of the season. Last time we analysed los Cajamarquinos for The Peruvian Waltz, it was a similar story.
On the right, Ponce was being supported by Guizasola, whilst Pretel and the young Guevara were partnered on the left side. As shown by this image, the full backs were pushing high up. At least that was the case with Guizasola. Pretel while still pushing up, was behind his right of the field counterpart probably to maintain some stability and avoid counters. This was sometimes applied to the right side as well.
Now we can talk about Ugarriza's role. For any Universitario fans, you might well recall Adrian Ugarriza being a very limited poacher. Since his time at Real Garcilaso and now UTC, he has evolved as a player. His hold-up play has improved, and he is excellent at opening up spaces for his teammates. Here are a few examples.
Cantolao have been closing down in the entire game. Two men mark the player on the ball. Often with Ugarriza, it was three players that he had to take on and this was a good opportunity for him to grab the ball for a couple seconds and open up space for his teammates. Here is a good example.
Pretel throws the set piece to Ugarriza in the first picture. As you can see, Herve Kambou was his only marker. In the next Tsubasa-styled picture though, he's being marked by three players, taking Donald Millan's marker with him, thus opening up some space for the Colombian enganche.
From there, Ugarriza would move back into the box to receive the cross and bring his marker with him and unlock space for his other teammates on the left. Now Millan is left with two choices.
Pass it straight through the middle over to Benjamin Ubierna as Ugarriza created a big line of space as you can see in the final picture.
Play it safe and distribute the ball to Bryan Guevara who can also perform number 1 in due time.
In the end, he opted for No. 2. However, you can see the role of the false nine within Ugarriza as he is reeling in so many defenders. This is Navarro taking advantage of the amount of defenders who take on one man. However, the issue is that the passing wasn't fast enough, and this is often the thing with most Navarro sides. Whether they had the technical capabilities to do it is another story, but Cantolao executed the defensive tactic well and were able to cut spaces quickly.
The big idea here for UTC was holding the ball. We've just explained why Ugarriza was different. As for the two wingers – particularly Junior Ponce – they would wait for underlapping or overlapping players.
The first example is rather short but it does sum up the collective idea of the team quite well. It shows the team's tactical understanding even though Junior Ponce executed his end product badly.
The former USMP winger waits on the right for each of his teammates to join the attack, Millan and Benjamin Ubierna are running into the box. Now pay attention to Ugarriza on the left of the screen as he plays an important role, highlighting his false nine role even more.
Ugarriza runs to the right to take his marker with him while Millan keeps running into the box. He sees Ugarriza running and underlaps him to have a free chance at point-blank range. This is meant for him to tap the ball in and get an end to Ponce's cross. Unfortunately, the final product was very poor but the execution was excellent.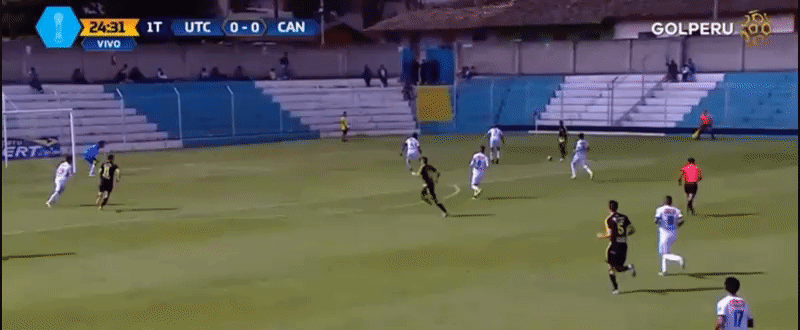 Strangely, Guizasola wasn't pushing up in that attack, it is hard to tell why he wasn't because he wasn't on screen, nor was Pretel, so it's tough to know if he was trying to keep some tactical stability at the back, but if he felt too many players were joining the attack, then that was probably the case.
To wrap up the offensive portion of this analysis for UTC, we can talk about how the two wide players worked together. We talked about how Guizasola was pushing up but never got around to discussing his role, especially since in that last bit with Millan, Ponce and Ugarriza, he decided not to overlap.
It is quite simple, though. The right-back would decide when he would push up and if he felt he should join the attack.
Here is an example. This play started off a set piece on the other side of the pitch, and as soon as Guizasola would come up to join the attack, Jorge Murrugarra would begin to push back and provide cover for the attacking full-back. Ponce now has someone he could look to on his right.
It really doesn't get much more complicated than that. Guizasola kept moving up front, found some space and then Ponce would begin to cut inside. Instead, the right-back went for the cross.
Defensively, UTC defenders each take one man in a zonal-marking scheme. Here you can see below how it is set up, and as you can see, it is unlike Cantolao's defending methods of three men taking on one. Here it's all 1-on-1.
Now how do each defender transition and decide who takes who? Well it's all within communication. Here you can see Flores organizing his backline and pointing at Fabian Gonzalez, who isn't present in the picture but was on the left flank.
Depending on off-the-ball movement of the opposing attackers, one player moves from one to another, like in the picture below. Pretel is taking on Takeuchi but as Atoche is joining the attack, he gets closer to the man and leaves his attacker to Cardoza.
Offensively, Cantolao had Fabian Gonzalez as the focal point, who was everywhere.
As for a more complex answer, it was definitely difficult to pick out el Delfin's plan without mentioning the Colombian. The tactic was basically to get the ball to Gonzalez and run down the flank until he found space. In terms of collective play, it would be counter-attacks. The biggest reason why it's hard to pick out a "game plan" for Cantolao is because the team does well technically and relies on that more than tactical principles.

This GIF right here summarizes that nicely. Cabello, Takeuchi and Atoche are in a tricky situation on the wing but Cabello finds a way out with his ability on the ball, passing it to Atoche who is able to find Takeuchi who moves into space nicely. There is off the ball movement from these players mind you, but not quite as much as the home side and most attacks came from the two wings.
The idea was to get the ball to an overlapping Cabello who had a lot of space in front of him. The end result from Takeuchi was poor, but Cabello and Diego Ramirez were all running to intimidate the backline and find some space into which they could receive the pass.
Counter-attacks all started from the wings as that earlier GIF showed. The left would usually involve Gonzalez hauling all his markers towards him. That was the idea anyways, but UTC did their best to keep composed. While Fabian still scored in the match, the idea was to provide a cover for his marker in case he got past one defender.
So this game was really tactics (UTC) versus technique (Cantolao) and the latter won on the day. Gonzalez and Cabello scored for the visitors while Millan converted a penalty for los Cajamarquinos. Franco Navarro has always been an interesting manager and we hope to find more opportunities to analyze his teams in the future.